03.07.2023
twogo and SIXT on course together!
Exclusive discount on SIXT rental cars for twogo users.
We have a special surprise for all twogo users: Effective immediately, we are offering an exclusive discount on SIXT rental cars for twogo users.
If you are unable to find a suitable ride-sharing option for your own mobility needs, or your own vehicle is unavailable, we can now offer twogo users exclusive discounts on their next SIXT rental car
This helps us to ensure mobility for our users at all times.
And this is how it works:
1. When creating a ride request, click on the "twogo discount on rental cars" button under "Vehicles"
2. Book a rental car on the exclusive SIXT & twogo discount page
3. Finalize the ride request back in the app – and you're done.
If you are not yet a twogo user, but would like to benefit from this offer: Register for twogo with your email address in just a few steps and set up the account. You will then be able to create your first ride request.
We hope that all twogo users will enjoy this promotion!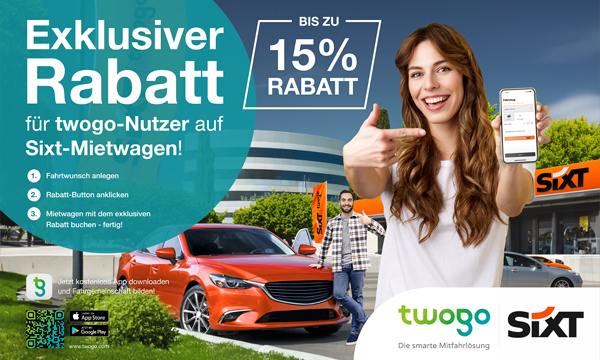 [Translate to English:]